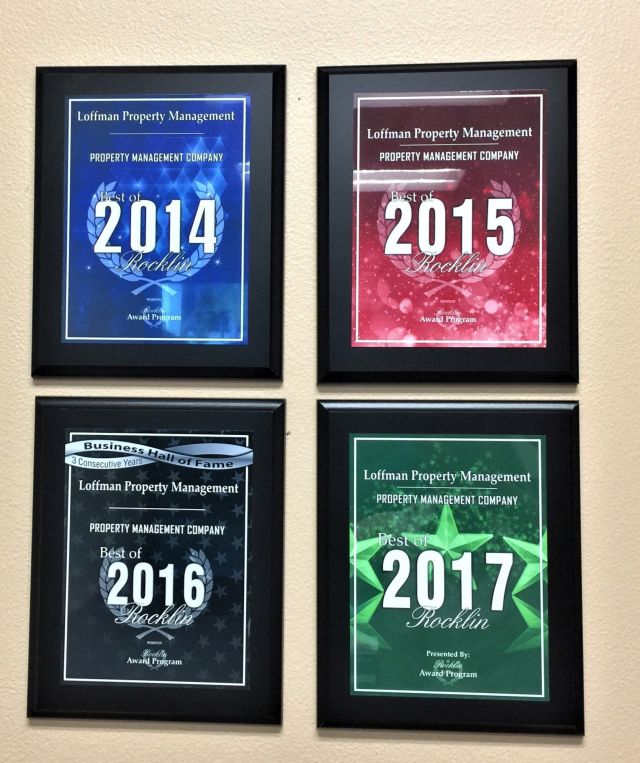 Owner Debbie Loffman (BRE: 01242627) is a licensed Real Estate Broker, and an expert at screening tenants. As founder of Landlord Protection Service, Debbie has screened over 70,000 tenants during the past 20 years.
Loffman Property Management employs excellent people, makes sure your investments receive proper attention, and gives you peace of mind, knowing that your rentals are being taken care of.
We are a medium size full-service management company, and specialize in managing single family homes, townhouses and condos for investors.
7 Tips For Choosing A Property Management Company
Debbie Loffman is a member of the National Association of Realtors (NAR), Rental Housing Association (RHA), National Association of Residential Property Managers (NARPM), California Association of Realtors (CAR), Placer County Association of Realtors (PCAR), and the Roseville Chamber of Commerce.
"Debbie Loffman treated me honestly and seriously. My former rental company charged me over $900 for the yard work but Loffman Property Management only charged me $150 for the same quantity work, and the handyman who Debbie hired did a marvelous job at my property at a fraction of the price. It's truly very hard to find that kind company in today's world and I am so grateful and proud that they can be my property management company."
Dee Z., Los Angeles, CA
"Debbie was my main contact throughout my experience with Loffman Property Management, and I cannot say enough good things about her and the company. She was extremely courteous and prompt in all communications and requests. When I had follow up questions after moving out, she was professional, kind, and responded immediately. I would not hesitate to recommend LPM to my friends and family."
Molly I., Tempe, AZ

"We purchased a home last year and needed to lease it our for twelve months while we were traveling out of the country. We thought finding a good short-term tenant might prove to be problematic. However, Debbie not only found us terrific renters who moved in the day after we closed, but she and her staff provided excellent service during the tenancy. Since we were out of the country we needed a property management company that could take care of everything for us and be responsive by email. Loffman Property Management exceeded our expectations in this regard. There were a couple of minor issues and the staff was able to contact us and get things fixed quickly even with a nine hour time difference. Whether you're a property owner or looking for a property to rent, we can highly recommend Loffman."
Rhenda G., Roseville, CA
"They are the best, most reliable people to work with. They are understanding and loyal, nothing but grade A customer service. when I found them I knew that no matter where I lived I would want to rent through them,they are quick to respond to any and all issues you may have with a rental, and you can actually talk to them personally instead of always taking messages like a robot."
Tiffany P., Sacramento, CA
"Nice staff, professional and shows urgency to care for tenants. Debbie the owner is very prompt in returning emails and phone calls. We made some requests for minor fixes to the apartment before our move in date, and she made them happen with out pause. Their deposits were lower than other managements and gave it back to us in full upon moving out."
BC F., Roseville, CA
"Your company was the best! Thanks for all your help over the years, as it was critical for our family."
drew L., Washington, DC
"We are so grateful for your very professional yet warm service over the course of our work together. My wife and I are all the more keen to have a rental house at some point having had such a positive experience in working with you - we have sung your praises to many. May God bless you in the days to come as you continue to serve so many through your work."
Doug and Laura
"You and your company treated us with the utmost respect through a very tough time. We will never forget that and always recommend you to others looking for rental properties."
Gary and Robin, Roseville, CA